Dr. Abe Suction Effective Mandibular Complete Denture Course
Upgrade your skills and provide superior quality dentures to your patients by undertaking our course in the revolutionary SEMCD technique.
The Dr. Abe Suction Effective Mandibular Complete Denture Course is an intensive, hands-on 2-day course for the revolutionary SEMCD technique pioneered by Dr. Jiro Abe from Japan.
This training course is one of the pre-requisites for obtaining official SEMCD certification. It includes lectures, technical training, and clinical training on the key aspects of SEMCD.
After completing this course and other requirements, you can become a certified Dr. Abe SEMCD provider.
All training courses are conducted by registered dental prosthetists who are qualified instructors of Dr. Abe's SEMCD technique and were trained by Dr. Abe himself and his team in Japan.
What is SEMCD?
Suction Effective Mandibular Complete Denture is a revolutionary denture technique founded and developed by Dr. Jiro Abe in 1999.
This technique uses the soft tissues (i.e. the tongue, buccal mucosa, sublingual tissue) to seal the entire length of the mandibular denture and provide more support for the denture. This creates a stronger seal and a complete suction that keeps the denture firmly in place. It is ideal for patients with abnormal mandibular ridges or those who can't afford full dental implant treatments.
Since 2004, Dr. Abe has been sharing this innovative denture technique with the rest of the world, providing lectures, training, and materials about SEMCD. Dr. Abe also established an international network of Certified Instructors for SEMCD, helping more dental professionals to learn about this innovative denture technique.
Dr. Abe SEMCD Australia and New Zealand is the official SEMCD organisation for Australasia, and we maintain a network of certified practitioners and laboratories throughout the region.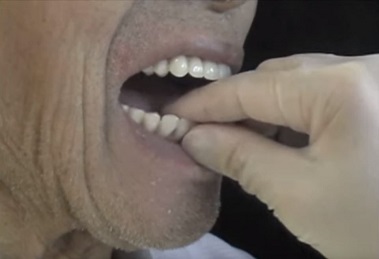 Revolutionising Mandibular Dentures
Full mandibular dentures have long been a challenge for dental professionals and patients, primarily because of the instability of mandibular dentures. Conventional mandibular dentures are notorious for becoming loose or popping out whenever patients open their mouths wide, making them unreliable long-term solutions for lower teeth replacement.
Conventional denture techniques also rely on stretching out the chewing muscles, which widens the denture bearing area and makes these muscles work harder to hold the dentures in place. Many practitioners also tend to hold undercuts by extending denture borders into the mylohyoid fossa, which can cause chronic pain and discomfort to many patients.
By using the soft tissues to support the mandibular denture, SEMCD provides much better retention and stability over conventional dentures. Its suction mechanism also holds the denture in place more reliably, keeping it more stable while allowing more natural movements of the mouth.